Horizons is not an Agency… it is a Family! We are reunited by a common passion and drive to serve our community and inspired by our youth whose strength and resilience serve as a model for our own growth. Collaboration and partnership form the crux of the services we offer, with each staff bringing a unique and crucial experience to the table. Our Staff Family is our everyday heroes and soldiers; fighting on the frontlines against an ongoing battle to bring about positive change in the lives of the youth and families we serve.
We are a Family of dedicated, resourceful, and unwavering professionals; humbled and honored by the sacred privilege to serve our community. And like a Family, we support each other in our challenges and successes, we break bread together, laugh together, and cry together in depths and the beauty of the work to which we have given our lives. We are family!
Meet Our Board of Directors
► Meet Isabelle
Isabelle Plessis
Isabelle's work focuses on developing and implementing effective policies for responsible corporate behavior. Her work has spanned responsible sourcing initiatives to online privacy and financial transactions at major international companies. Prior to her move to the Bay Area, Isabelle was at the United Nations Education, Science, and Culture Organization (UNESCO), the Canadian government, and various international research institutes.
Isabelle holds two Masters degrees as a Fulbright Scholar in International Affairs from Columbia University and Science Po (Paris), a B.A. from the University of British Columbia, and is fluent in French and German. She is passionate about intercultural exchange, empowering stronger communities locally and globally, and ensuring access to justice for victims of human rights abuses.
► Meet Bianca
Bianca Faddis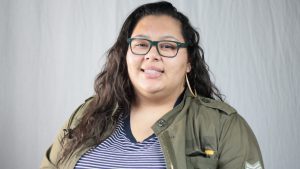 Bianca Faddis, a San Francisco native, spent most of her adolescence in the Mission community. At the age of 14 years old, Ms. Faddis joined the Horizons Unlimited program as a youth participant. Her involvement in the Horizons workforce program inspired her career in community work, specifically serving young people facing obstacles to success.
Ms. Faddis is the first former program participant to fill a seat on Horizons' Board. She is very proud to be a voice that represents the numerous young people who, like she, experienced numerous struggles but persevered. She not only speaks for herself but she speaks for many youth in the community who have relied on the vital services like those offered at Horizons.
Ms. Faddis is currently working as the Senior Administrative Assistant at Bay Area Community Resources, a local multi-service agency. Ms. Faddis received certification as a Medical Assistant at Bryman College. She is pursuing a Bachelor's of Science Degree in Human Resource and Management.
Meet Our Community Ambassador